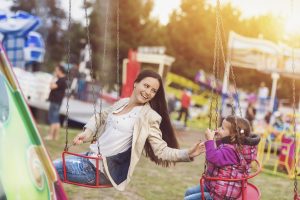 By Lisa Pecos
Nothing says summer fun like a day at an amusement park. From the rides to the games, amusement parks have all kinds of fun things to do for the whole family. With all of this fun, though, there are also a few risks for children, from getting separated from family to getting injured. The following 5 tips can help keep your kids safe so that you can all enjoy this quintessential summertime experience.
1. Follow the Rules
Amusement parks have rules in place to keep you safe, yet many don't give a second thought to the signs posted. Take the time to read the signs posted at the gate and in front of each ride and explain them to your children. Following the rules can help keep your children safe, from making sure they don't get on rides that they're not tall enough or old enough for to keeping them out of harm's way when walking around. Some rides are also not recommended for those with certain medical conditions. Saferparks, a non-profit organization committed to preventing amusement park ride accidents, stresses that ignoring the rules or trying to work around them can put a life in jeopardy.
2. Show Your Child Safe Places to go for Help
As soon as you arrive at the amusement park, take your children to the information kiosk or security office so that they have a safe place to go for help should they become separated from you. Even young children should be told where to go or who to reach out to, such as police officers or park security, in case they get lost or need help. To make sure you hammer the message home; point out these places and people rather than just telling them.
3. Bring Healthy Snacks and Water
Keeping your child properly hydrated and nourished is always important and is especially so when spending an exciting and tiring day at an amusement park. Bring along water and healthy snacks to help keep them feeling their best throughout the day. This doesn't mean that your child can enjoy some of the yummy carnival treats that the park has to offer, of course. The key is to keep sugary and high-fat treats to a minimum and to take some time to rest before getting back on rides to avoid an upset tummy and potentially messy ride.
4. Don't Just Leave Ride Safety Up to the Employees
Though a park employee will come around and check that bars and latches are in place before a ride starts moving, you can do your part to keep you and your child safe by checking bars, seatbelts and latches yourself. Always ensure that you and your children are properly secured in your seat and call the attendant over right away if something doesn't seem right. Also, be sure to tell your kids to keep body parts inside and to remain seated until the ride comes to a complete stop in order to avoid injury.
5. Give them Your Contact Number
Make sure that your child has your cell phone number on them before you head to the park in case you get separated. Be sure to write it on something that they can't lose, such as on a tag inside their shirt, on a secure armband or bracelet, or even on their arm using an ink marker. The key is to make it easy to read and nearly impossible for your child to lose or take off.
A little diligence can go a long way in ensuring that your kids have a safe and fun day at the amusement park this summer.