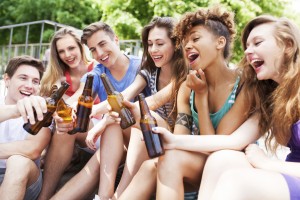 Teenagers Who Watch Actors Drinking Alcohol in Movies More Likely to Drink Themselves
A study published earlier this year in the journal Pediatrics found that young European teens who watched more scenes of actors drinking in Hollywood movies were more likely to binge-drink and otherwise abuse alcohol.
Researchers gave questionnaires to more than 5,000 15-year-olds from England, and found that youths who had watched the most minutes of drinking scenes in different movies were twice as likely to have problems relating to alcohol as teens who had watched the fewest minutes. Those who had watched the most minutes were also almost 2.5 times more likely to drink at least once a week and 70 percent more likely to binge-drink (that is, drink 5 or more drinks in a single day).
Previous studies done by other researchers had found similar results about teens in the United States, Germany and other countries. Though the studies don't prove that watching actors drink in movies was leading the teens to drink more themselves, it seems likely that there could be a link between what they see on the big screen and what they do in their own lives.
In this latest study, the researchers made adjustments for such factors as the drinking habits of the subjects' parents, socioeconomic status, whether the youths had a history of behavioral problems, and other family characteristics. The families had been tracked since before the children had been born, as part of the Avon Longitudinal Study of Parents and Children.
The study found that by age 15, 86 percent of the teenagers had tried alcohol at least once and 21 percent drank on a weekly basis; 47 percent acknowledged that they had had at least one episode of binge-drinking, and 43 percent said that they had had at least one alcohol-related problem, such as it having interfered with school or work, or having gotten in trouble with police.
Researchers watched 366 popular movies and counted the minutes that drinking had been shown in each movie. The youths were then asked to pick which movies they had seen from among a random list of 50 of those films. The average teen had seen 47 minutes of movie drinking. Those who had watched the most movie drinking had seen at least 64 minutes, and those who had seen the least, had seen less than 28 minutes.
After controlling for the above-mentioned factors, researchers found that teens who had watched the most minutes were 20 percent more likely to have had an alcoholic beverage at least once; 70 percent more likely to have a history of binge-drinking; twice as apt to have had an alcohol-related problem; and 2.4 times more apt to drink at least once a week at the time of the survey.
The associations were found despite the relatively small amount of time that the English teens had watched drinking in movies. In the U.S. and Germany, the average teen had seen about 3 hours' worth of movie drinking. The total amount of movie drinking viewed by the English youth could be underestimated, however, being that the teens were not asked about all the movies the researchers studied, or television shows.
The findings of this latest study are in keeping with growing evidence that teenagers are more likely to perform different risky behaviors that they see in movies and television shows that they watch, said study author Andrea Waylen, senior lecturer in social sciences at the University of Bristol in England.
Study authors offered that one way to keep children from being influenced by drinking in movies would be to ensure that films made for minors do not contain any drinking scenes. That would mean that any movie showing any alcohol would receive an R rating from the Motion Picture Association of America (or an equivalent rating from the British Board of Film Classification).
Dr. Victor Strasburger, emeritus professor of pediatrics at the University of New Mexico School of Medicine, stated in an interview that the ratings should be content-based, and not age-based, as they currently are. He believes that pre-teens are likely to be the most susceptible to being influenced by what they see in movies.
A 2011 study in the International Journal of Epidemiology found that 72 percent of the highest-grossing movies in the United Kingdom between 1989 and 2008 had drinking scenes in them, though only 6 percent had an adult rating. In the U.S., 83 percent of top-grossing films during those years had alcohol scenes, including 57 percent that were rated G or PG, according to a 2008 study. Many of the G and PG movies also showed scenes of people smoking cigarettes.
By Lisa Pecos