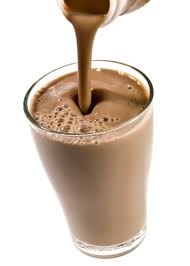 I have a 21 month old daughter that isn't milk's biggest fan. She'll drink a little bit, but not nearly enough to get her day's worth of calcium in. So one morning, I thought I'd give her some chocolate milk to see what would happen. She didn't drink it–she guzzled it! Ever since, it's chocolate milk every morning–she's underweight as well, so I figure the extra calories won't hurt. This is why an article in yesterday's LA Times Health section caught my eye. Entitled, Pro / Con: Should chocolate milk be allowed in schools?, it gives the debate on whether or not flavored milk should be offered at your child's school.
Rachel Johnson, a dietitian at the University of Vermont in Burlington whose research has been funded by the National Dairy Council, says yes–it's better than no milk at all. However, Marlene Schwartz  a psychologist and deputy director of the Rudd Center for Food Policy and Obesity at Yale University says no–that we're teaching milk is only good when it's sugared up.
My thought is that chocolate milk is better than nothing. Once concern of the dietitians is that we have a rate of obesity amongst our children–food such as this will only raise it. I may think differently if my child was on the heavy side, but she's not. The LA Times reports that, "The National Dairy Council has launched an aggressive public relations campaign, Raise Your Hand for Chocolate Milk,  to keep flavored milk in schools. Pediatricians, public health experts and school administrators are divided as to whether the nutritional benefits of flavored milks outweigh their sugary downside."
So what's your opinion?