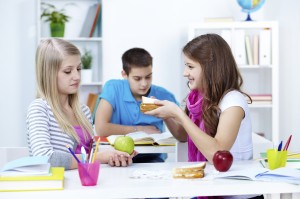 When aiming to keep your kids healthy or addressing problems of excess weight, the snacks that you feed your children are more important than many parents realize. It's not enough to work at feeding kids healthy meals, only to let them munch on candy bars, candies or store-bought cookies and Hawaiian Punch after they get home from school. And kids are usually pretty hungry when they arrive home.
The best strategy for a parent is to keep in the house healthy foods that are quick and easy to eat. Kids will eat whatever is handy, tasty and ready to be eaten. It is just as easy to pick up a basketful of whole, natural foods at the grocery store as it is to get junky, unhealthy foods. But in the long run, making good food choices will go a long way towards insuring that your kids are healthy, so, healthy foods are the only kind of food you should have inside your home.
Here's a list of some excellent choices for children's snacks; they fill up and nourish, but are not too heavy. And they have none of the chemical additives and preservatives present in most snack foods marketed to children.
1. All-natural tortilla chips or potato chips (the ingredient label should list only three ingredients: the vegetable, the oil and the salt). These are delicious by themselves but can be made more balanced and filling by dipping them in natural sour cream (read label on sour cream to make sure it doesn't have chemical preservatives like sodium benzoate or stabilizers like carrageenan). A few chunks of natural cheese will do quite well, also.
2. Chop up vegetables like carrots, broccoli or celery sticks, and save them in a plastic container, so that they're ready to go when your kids get home. For added flavor, these vegetables can be dipped in:
Mustard (made yellow by the very healthful spice turmeric)
All-natural hummus (with nutrition powerhouses ground chickpeas and other health-promoting ingredients)
All-natural peanut butter (with lots of vegetable protein; make sure you buy a brand that has no hydrogenated oils or additives; peanut butter should have only peanuts, or peanuts and added salt)
Yum! Nothing boring about that.
3. Nuts and seeds — any and all kinds are packed with nutrients, heart-healthy oils and dietary fiber.
Salted nuts are good, but raw and unsalted nuts are even better, as they have no dietary salt, something that most Americans get too much of. Nuts can be glazed with a little honey and eaten with a small glass of milk, or they can be eaten by themselves. When eaten by themselves, they go great with a small glass of all-natural fruit juice.
4. String cheese and natural wheat crackers or potato chips is another healthy, ready-to-go after-school snack.
5. Bananas and milk: a super nutritious snack that hits the spot, yet is not too filling and won't spoil your kids' appetites for dinner.
6. Cheese quesadillas: place mozzarella cheese on one half of a tortilla in a pan, and fold other half over it. Heat on low heat, covered, for a minute, then turn and heat other side. Add chopped, fresh tomatoes or sliced avocado on top, to make it an extra-delicious and super nutritious quick snack. (Look for tortillas that have no preservatives in the refrigerated section.)
7. Fruits — all types. Make melons convenient for kids to get to, by chopping them up and storing them in containers in the refrigerator. Keep whole apples, pears, peaches, oranges, tangerines, bananas or grapes around, whatever fruits are in season. These are always ready to go and are good sources of vitamins, minerals and dietary fiber.
Sliced apples or bananas taste great when topped with peanut butter; you can also try eating them with cheese. Bananas are also delicious dipped in sour cream.
8. Bake cookies at home — it takes only minutes, and you can cut down on flour carbohydrates and boost nutrients by adding chopped walnuts or almonds. Add other nutrients, fiber and flavor by folding partly dehydrated cranberries, Craisins (made by Ocean Spray) into a simple cookie dough recipe. (By the way, you should always use dairy butter or cooking oil to make cookies and other pastries; never use margarine or shortening, as these have been linked in studies to heart disease.)
A couple of medium-sized homemade cookies and a small glass of milk make a satisfying snack. Avoid store-bought cookies sold in most supermarkets here in the United States, as there are practically no brands that don't contain a lot of sugar and toxic additives that no one should consume.
9. Ice cream — kids love it, so, keep some in the freezer.
Unfortunately, here in the U. S., most brands at the supermarket have about 20 additives that have absolutely nothing to do with nutrition (or with ice cream). Be a wise shopper; spend a little more for brands and flavors that contain nothing artificial, such as Breyer's strawberry, vanilla or chocolate ice cream. Most flavors of Haagen Dazs are also free of anything artificial.
Nuts are great on ice cream and make a much more healthful topping than sugary toppings filled with many artificial chemicals.
Sodas should not be given to your children. These are empty calories with a lot of unwanted chemicals. Beverages of choice for children should be filtered or bottled water, milk and all-natural juices.
As you can see, the time to plan your children's healthy after-school snacks is when you go grocery-shopping. Take your kids with you and help them pick out some healthy foods to snack on during the week. If they take part in the decision-making process about what foods to buy, they will be more inclined to eat them. Talk to them about the importance of eating healthy foods, and lead by example, to gain their cooperation.
It's great to get kids accustomed to eating healthy foods, including fruits and vegetables, when they're young. But it's never too late to start a good habit. If you encounter resistance, persistence will pay off. Just keep offering them healthy foods, try different ones, and let them make some decisions about what to eat — from among healthy choices!
Jamell Andrews