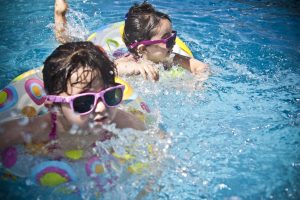 By Lisa Pecos
In a world where screen time has almost completely taken away play time, helping your child develop healthy habits is more important than ever. Healthy eating and regular physical activity can improve your child's physical and emotional health, giving them the best chance for a happy and successful future.
Getting your kids to step away from the gaming console or put down their tablet may seem impossible, but these tips can help you get them on their way to healthier habits.
Eating Right
As a parent, you have the opportunity to help your child eat better by making healthier choices for the whole family. Fortunately, this is a lot easier and less expensive than you may think. Use these tips to get started:
Plan meals in advance. This will not only make it easier for you to grocery shop, but it also saves time and money when you go to the grocery store with a list of exactly what you need.
Save leftovers for another meal. By setting half the meal you've prepared aside, you control portion sizes to avoid overeating and save yourself the time of having to cook your next meal.
Prep meals in advance and freeze. Cooking food in large batches and freezing for later can help save you time and lets you control portion size. Making healthy meals and freezing them helps you eat right when you're short on time.
Have healthy snacks ready to go. Slice up fruits and veggies and air pop some popcorn to keep on hand for when your kids are looking for a snack.
Make smoothies. Smoothies are delicious and easy to make! They make a great breakfast, snack, or dessert.
Get your kids involved. Let them help you choose fruits and veggies at the market and let them help you prepare food, too. Lead by example to help your kids develop better eating habits for life.
If you're looking for more ideas or information on healthy eating, check out resources like MyPlate that offer tips and even online tools to help you and your family build a healthy eating style that works for you.
Get them Moving
The current global recommendation for physical activity for children ages 5 to 17 is moderate-intensity physical activity at least 60 minutes per day. Even with hectic schedules, this is easy to achieve and more so if you do it as a family.
Together with your kids, come up with fun physical activities that you can all do together. Here are a few fun, family-friendly activities to help you get started:
Nature walks. Hit a local trail and enjoy the sights and sounds of nature. Go for an hour or make it a day-long hike by stopping for a picnic of healthy snacks along the way.
Participate in a walk or run for charity. Not only is this for a good cause, but you can use the event as a goal to train for and work towards. Most events offer different distances and many even have a kid's events at the start.
Walk instead of driving. This can be to school, to the park or anywhere else you enjoy going together. Skipping the car whenever possible is a good habit for family members of all ages to get into!
Get competitive. Plan a family volleyball or soccer match in the backyard or at a park. Invite friends and other family members along to add to the fun.
Go to the beach or local pool. Splashing and swimming are fun ways to get moving that you'll all enjoy!
Play with your kids. A good old fashioned game of tag or hide-and-seek with your kids is sure to be a hit. Encourage them to play these types of games when they have friends over too, instead of videogames.
No matter what activities you choose, be sure to focus on making it fun. Giving your children an understanding of the benefits of activity can also help encourage them to move more now and as they get older.