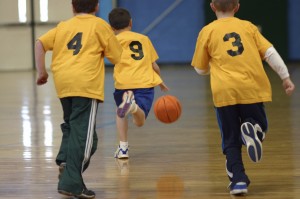 Yes, it is. Child experts agree that playing sports is a great way for children who suffer from attention-deficit/hyperactivity disorder (ADHD) to build self-esteem, get exercise, enhance social skills and make friends. Playing sports helps boost a child's self-confidence, something with which ADHD kids often struggle. Signing up your child for a sport offers the added benefit of steering him or her toward a more active routine, thus decreasing or discouraging more sedentary activities such as TV-watching or playing video games, and that's a good step for any child.
Helping Your Child Choose a Sport
Some sports might be better for your child than others. For example, a sport like baseball, which involves a lot of time standing around on the field, may not be a good match for your kid. Better sports for him or her might be basketball or soccer. Then again, if your child has difficulty following instructions when there are a lot of them, or if he or she has trouble focusing in situations where there are many things happening simultaneously, a team sport might not work. In that case, you should pick from individual sports such as swimming, tennis, martial arts, and so forth. Martial arts like karate are recommended by some, because children stand in rows, all performing the same moves at the same time. This reinforces timing and helps kids stay focused.
If your child isn't sure about what activity he or she would enjoy best, let your kid try different ones; it's okay to try a few sports before finding one that's a good match. And if your kid has his or her heart set on a specific sport, let them pursue their interest. Every child with ADHD is different, so, be flexible as you and your kid decide on a sport.
Also keep in mind your child's personality. If he or she isn't the competitive type, you should find a sport or a sports situation where the emphasis is on having fun and the camaraderie, and not on winning.
Pick a sport that can be easily worked into your child's daily routine. If weekdays are hectic, consider choosing an activity that can be performed on the weekends. Keep your child's new routine as stable as possible; this is what works best for a child with ADHD. And be sure not to overbook your child, so that he or she will still have time to do his school work and responsibilities at home.
Some parents of ADHD children report that their kids' grades improved after the children started a sport. This may reflect the fact that sports help kids with focus and self-discipline — as well as providing the added health benefits that all exercise gives: a better-functioning body and mind.
As a final note, to further enhance your child's chances of success, you may want to meet personally with your child's coach or instructor and ask if they have had any experience with ADHD.
By Marc Courtiol