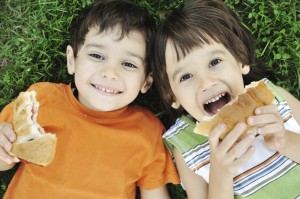 You are a mom who understands that we are what we eat; you want to be sure that your children eat healthy, fresh, wholesome foods. Because these foods do not have toxic, artificial preservatives or non-nutritious fillers in them, you know that many of them spoil much faster.
A tummy ache, or worse, can happen in a snap, if the food has excess bacteria — and bacteria can multiply very quickly when the food isn't kept cold enough or hot enough.
Here are some helpful tips for keeping those highly nutritious, natural foods fresh until it's time for your children to eat them:
For lunches, an insulated lunch box helps to keep foods in the safe temperature range for hours
Use frozen gel packs to further help keep perishable foods cold and safe
Foods such as meats and dairy products, including yogurt, need to be kept cold, to stay fresh (one exception is hard cheese, which does not need refrigeration)
Freeze fruit juices in individual containers overnight; that way, they will help foods stay cold inside the lunch box, and they'll be thawed when it's time to drink them a few hours later
Use an insulated thermos to keep foods such as soups and stews hot. It is also a good idea to keep cold milk in a thermos, as milk is highly perishable
Pack sandwiches in sealable plastic bags or wrap them in plastic wrap. You can also use washable plastic containers; these are also great for fruits like grapes or fruit sections
Prepare perishable sandwiches the night before and store in refrigerator, to make sure they are cold when you place them in lunch box with frozen gel packs the next day; this will further insure that the foods stay cold
Throw away any perishable food left in the lunch box when your children come home, as it is no longer safe to eat
Non-perishable items do not need to be kept cold or hot. These include:
Peanut butter and preserves sandwiches
Chips, crackers or breads (buy the natural kinds of these items, with no artificial additives)
Canned meats like tuna
Whole fruits and vegetables
Single-serve pre-packaged fruits (if you chop fruits or vegetables at home, pack in plastic containers and use cold packs to keep them cold
Wash cold packs at night with soap and water, and place back in freezer, so they're ready to go the next day
As important as keeping foods at the right temperature, is insuring that your hands are clean when you prepare the foods, and that your children's hands are clean when they eat them. Stress to your children the importance of washing their hands thoroughly with soap before eating. If water is not accessible, tuck a couple of wet wipes in a small plastic bag and seal the bag.
Eirian Hallinan