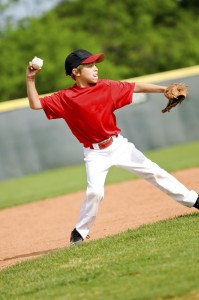 Summertime means thousands of American children are honing their pitching skills on baseball mounds throughout the land. But as always, it is important to start a new sports or fitness regime with plenty of warm-up and cool-down exercises, stretching, appropriate strength-training, and to not go overboard too quickly. Also, having long breaks from playing a given competitive sport in the course of a year helps decrease the risk of repetitive-use injuries.
Insufficient strength training, combined with bad form, can result in "Little League shoulder," an overuse injury from repetitive overhead ball-throwing, especially pitching. The condition produces shoulder pain, swelling and decreased ability to move the arm — and doctors are seeing it more frequently nowadays.
Medical experts point to changing youth sports trends; in the case of baseball, that includes more year-round pitching, without taking months' long periods of rest from the sport. Kids may also be doing more pitching, at higher velocities, than in the past.
Both "USA Baseball" and "Little League Baseball" organizations have set pitch-count limits for players; but in spite of this, doctors are seeing a rise in overuse injuries resulting from children pitching too much. Similar injuries are also seen in catchers and position players in baseball, in girls and in tennis players and gymnasts.
To learn more about Little League shoulder, researchers studied the cases of 95 patients between ages 8 and 17 who had the condition (the average age was 13).
All patients had been treated at one pediatric care facility between 1999 and 2013; 97 percent were baseball players. Eighty-six percent were pitchers; 8 percent were catchers and 7 percent played other positions. Three percent of the group were tennis players, and 2 out of the 95 were females.
In addition to shoulder pain, 13 percent of the patients were also experiencing elbow pain; 10 percent felt shoulder weakness or fatigue, and 8 percent were having mechanical difficulty moving their shoulder.
About one-third of the patients had developed decreased range of motion; those with lessened range of motion were also three times more likely to get Little League shoulder again within 6 to 12 months after they returned to sports.
Fortunately, for most patients — 98 percent — simply resting their shoulder was all that was needed to recover. It took an average of more than 2.5 months for symptoms to improve, and an average of more than 4 months for patients to return to play. More than 7 percent had symptoms return within 8 months.
In addition to rest, 79 percent of the children also got physical therapy; all children with range-of-motion problems got physical therapy. One-quarter of the patients were told to change positions when they returned to baseball.
Study author Dr. Benton Heyworth, instructor of orthopedic surgery at Harvard Medical School and a sports medicine practitioner at Boston Children's Hospital, recommended that even after a months' long period of rest, children undergo a period of training, and possibly also physical therapy, before returning to play. He added that the 7 percent recurrence rate may be an underestimate, as many children don't report the pain.
Some doctors also recommend to parents who are especially interested in their children excelling at a sport such as baseball to consider employing an athletic trainer, in addition to a physical therapist, so that muscle strength and technique can be worked on more specifically.
Dr. Heyworth added that the best way to deal with sports injuries is to prevent them, by giving children adequate periods of rest, and by insuring that coaches, team officials and players adhere to well-established pitch-count limits and other Little League protocol.
Findings of the study were presented recently at the American Orthopaedic Society for Sports Medicine's annual meeting in Seattle.
In addition to improper pitching technique and excessive throwing, the following factors increase the risk of developing Little League shoulder (and elbow pain):
Not resting between pitching sessions
Playing multiple positions that call for different throwing techniques
Not having enough strength in the muscles that support the shoulder and shoulder blade during throwing
Weakness or tightness of the core or legs, which will result in more stress being placed in shoulder muscles during throws
Playing in more than one league per season
By Lisa Pecos