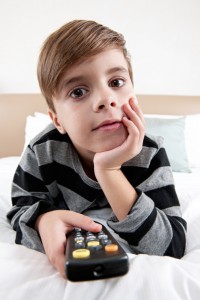 It's no secret to any parent that children, especially younger ones, strive to be like their parents and do the same things that parents do.
So, it may come as little surprise that a study published recently in the journal Pediatrics found that the best predictor of how much time a child spends watching television … is how much time the parents do.
Researchers at the Annenberg Public Policy Center (U of PA) interviewed 1,500 parents with children 17 and younger about the parents' screen time habits (viewing DVDs, movies on the Internet, and so forth). They were also asked specifically about their television-viewing habits, as well as their kids'. When possible, adolescent children were also interviewed about their own TV habits.
The interviews revealed that parental TV time was a better predictor of how much time the kids watched TV than whether parents removed a television set from the children's bedroom, restricted the kids' TV viewing, or how much TV parents and kids watched together.
Parents spent an average of 4 hours in front of a screen, and the more screen time they had, the more their children were in front of a screen, as well. For every hour that parents watched television, children had an additional close to 30 minutes of screen time.
Parental restrictions on TV-viewing had some effect on 6- to 11-year-olds. Adolescents, on the other hand, reported viewing almost an hour more of TV a day than their parents suspected.
The American Academy of Pediatrics has been advocating for years that children not be allowed more than 1 to 2 hours of non-educational screen time a day. (And it recommends that children under 2 not have any screen time.)
Too much TV-watching has been linked in past studies to the following:
Obesity – The more television a child watches, the greater the risk of the child becoming overweight. Letting kids have a TV inside their room increases this risk.
Difficulty Sleeping – The more TV children watch, the more apt they are to have difficulty falling asleep; their sleep schedules are also more likely to be irregular, leading to sleep deprivation.
Poor School Performance – Sleep deprivation may be one of the main reasons why children who have TV's in their bedrooms tend to do worse on tests than children with no bedroom TV's.
Behavior Problems – Elementary-age students who have more than two hours a day of screen time have a greater risk of emotional, social and attention problems. Playing video games in specific is associated with a higher risk of attention problems in kids.
Exposure to Media Violence, Especially on TV – This can desensitize children, who are impressionable, to violence, which may cause them to view violent outbursts as a normal way to deal with frustration
Child experts offer these tips to parents:
No TV's or computers in children's bedrooms; keep those in common areas where you can monitor content viewed by your children
When not watching a program, turn off TV
Help your kids make healthier use of their time by suggesting other things to do, like reading, playing sports, board games, helping around the house, volunteering in the community
Set a good example for your kids — you will be much more effective if you walk the walk, and not just talk the talk!
By Eirian Hallinan