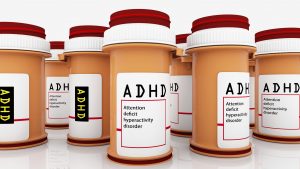 By Jamell Andrews
Though behavior therapy is the recommended first line of treatment for young children diagnosed with attention-deficit/hyperactivity disorder (ADHD), a report has found that more children are being treated with medication instead.
ADHD
ADHD is a disorder that causes hyperactivity, attention issues, and impulsiveness. Approximately 6 million children in the United States have ADHD, of which 2 million were diagnosed before the age of 6.
It's been found that those diagnosed at an early age often have the most severe symptoms. They're also the ones who benefit the most from behavior therapy and other psychological services.
The American Academy of Pediatrics recommends that healthcare providers refer parents for behaviour therapy training before resorting to prescribing medication to children under the age of 5.
The Report
Researchers for the Centers for Disease Control and Prevention (CDC) looked at annual health care claims starting from 2008 for approximately 5 million children between the ages of 2 and 5 insured by Medicaid, along with another 1 million children covered by employer-sponsored insurance.
The Vital Signs report showed that even though behavior therapy is recommended as the first line of treatment, approximately 75 percent of young children treated for ADHD received medication. The report also showed only half of children treated for ADHD received any type of psychological services, which may have included behavior therapy training for parents.
According to the CDC, the first recommended treatment for young children with the disorder is underused and they are urging all healthcare professionals who treat ADHD to help parents by explaining the benefits associated with behavior therapy and referring them for training.
The Benefits of Behavior Therapy
There are several reasons why behavior therapy is recommended first for the treatment of ADHD in young children over medication. Behavior therapy has been found to work as well as medication, which is successful for approximately 70 to 80 percent of young children with ADHD. The medications used to treat ADHD can cause side effects ranging from decreased appetite and stomach pain to irritability and sleep issues. There is also concern over the long-term effects of these medications on young children, which are not yet known.
It is recommended that parents and healthcare providers work together to decide on the appropriate treatment for young children with ADHD by discussing and considering:
The child's age
Possible side effects of medication
Duration of benefits of each treatment
Availability of treatment
Cost and resources
Urgency of need
Family preference
Behavior therapy training for parents typically requires 8 sessions which cover topics including:
Positive communication
Positive reinforcement
Structure and discipline
It has been found to give parents the skills needed to help improve their child's behavior and improve the way they function at home and school, as well as in relationships. After therapy ends, the benefits continue, which ultimately reduces stress while the child's behavior continues to improve.