by Dr. Naureen Hadwani
An approach towards developing capabilities of Mothers
A child is undoubtedly the most precious gift from God. There is no better feeling than to ensure a positive future for your child by making their foundation early years productive and valuable. Long before the formal schooling begins, a child starts developing language, social skills, the capacity to learn and healthy habits.
Ensuring every child the best start in life is the foundation for fulfilling all the other rights of that child. Hence investing in these early years is also the best guarantee of promoting sustainable economic and social development. A solid body of evidence shows that choices made and actions taken by parents and society in the
earliest years of childhood have a powerful and long-lasting influence both on the progress of individual children and the wider progress of nations.
When children receive the best start in life, they are more likely to survive the risky first years, to grow healthily, to have fewer illnesses and to fully develop thinking, language, emotional and social skills – to sum, to survive and to thrive. When they join school, they are more likely to do well. Later in life, they are more likely to be capable and productive members of society. In addition, it is also evident, based on the proven fact that young children (0-5yrs) respond best when their mothers use specific techniques designed to encourage and stimulate their progress to the next level of development.
Keeping in mind the dire need of these early years in the life of a child, after long and detailed brain storming sessions, an idea of training young community mothers on dealing with issues related to Early Childhood Development was regarded.
The first step on the road for a practical application of afore mentioned training was to assess the need of such training amongst the mothers of the community by identifying their attitudes, practices and behaviors in dealing with the issues faced by them during early years of their children's development . In this link, a group of 10 mothers having their children between 0-5 years of age were randomly selected and recruited in focus group discussion.
The Results of the FGD suggested that while providing a supportive, stimulating and safe environment in the first few years of life is so critical; our mothers are not trained enough to deal with early childhood development and most of the concepts held by the mothers in relation to dealing with developmental issues provided no practical implication.
These issues prepared basic ground for the strategic planning of the training program and consequently, 35 young mothers were selected from a small community in Karachi-Pakistan after passing through an interview process. The selection criteria in addition to the participant's age also included that they have ECD aged children. Keeping in view the fact that core concept of ECD starts from conception, the program also kept the provision for recruiting expecting mothers in the training program. Thus after this detailed pre training preparation, a training program with the name of ME AND MY CHILD was initiated with these objectives:
To Enhance mother /child relationship
To help mothers identify and effectively deal with ECD related issues.
To train mothers on the theme of "Mothers as First teachers and mother schooling"
To help mothers enhance their child's problem solving, social, religious and learning skills.
To learn how to inculcate creativity during initial years of kids' learning.
The training program lasted for 2.5 months during which several activity based workshops were conducted on Sundays, mainly on the themes of Effective parenting, creativity, Influence of media, disability, Physical, emotional, religious, and social development of child during 0-5 years.
Using drama, stories, chart presentations, and sharing of ideas, the facilitators' shared practical ways to address some of the most common problems faced by parents in their child's brought up. Sessions like effective parenting and disability were filmed before a live audience of parents in such a way that they challenged parents' creative and insightful ways.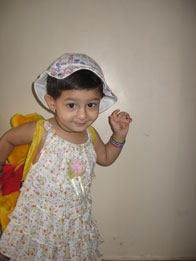 These sessions provided a plat form for the participants where they started questioning their basic notions like How am I as Parent, What should I cook for my child, What are the nutritional needs of my child, Am I communicating effectively with my children, is my child watching more TV than recommended and many such similar questions.
Highlighting the importance of fathers in the building up of strong families, husbands of the participants were also invited in a few sessions which made the group learning more productive and they collectively participated in different learning activities like role plays, presentations and group discussions etc.
To evaluate the overall program, a post training FGD was conducted to measure the impact. 10 trained mothers were now recruited in this FGD and the opinions and experiences of these mothers provided a rich context for understanding how a program like "Me and My Child" affected their behavior.
The results from the Focus Group Discussion revealed that the program benefited the participants in changing their behavior towards their children and family on the whole. Mothers reported that their children's responses changed when they altered their strategies towards them and fathers were also reported to have started sharing more time and efforts because of overall improvement in the home environment. The discussion also revealed that almost 60% of the mothers have identified areas where they could bring about improvements in themselves which can then affect their child's behavior in a positive manner for instance; few mothers reported that they would like to control their anger and have made significant improvements in brining that change. Some mothers who were in the discussion indicated that fathers should be made the part of complete training rather than inviting them in only few sessions and were also able to share examples of instances when they noticed increased sense of responsibility in their husbands because of the lessons they learnt from a few sessions that they attended. The overall findings suggest that early childhood program interventions for mothers and caregivers optimize the potential for holistic development of children in an equitable manner which leads to a healthy and intellectual society in future.