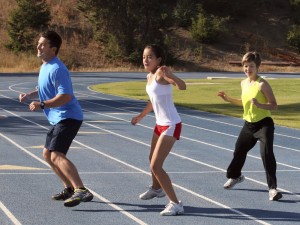 A review of global studies measuring fitness levels among children found that today's kids have become progressively less fit than children from the last previous decades. The studies, which examined the fitness levels of 25 million youths, found that modern kids can't run as fast or as far as kids from as recently as a decade ago.
The study, which was led by Grant Tomkinson, an exercise physiologist at the University of South Australia, reviewed 50 previous studies on running fitness, a key measure of cardiovascular health and endurance. The children were aged 9 to 17 and were from 28 countries; the studies had been done between 1964 and 2010; 20 million children were from Asia.
The studies had measured how far children could run in 5 to 15 minutes, and how quickly they ran a distance of half a mile to 2 miles (3.2 kilometers). Researchers concluded that today's kids are about 15 percent less fit than kids from a few decades ago.
It takes today's children 90 seconds longer to run a mile (1.6 kilometers) than it did 30 years ago. Heart-related fitness has declined by 5 percent every decade since 1975 among children 9 to 17.
The changes were similar for boys and girls, and for different age groups. However, different geographic regions yielded different results.
Fitness declines appear to be leveling off in Europe, Australia and New Zealand. American children have improved in the last few years; fitness levels in Japanese children have also improved in recent years. Chinese children, however, are becoming increasingly less fit and more overweight.
In the case of Japan, fitness levels among children had been declining since the 1980's. This prompted Japanese governments to ask municipalities and schools to promote youth fitness. That in turn led to gradual improvements in fitness scores that have reversed the trend of declining fitness.
In China, experts blame their country's decreasing youth fitness on the obsession with college entrance test scores, which means students sit around to study a lot, and on the proliferation of indoor electronic past times such as gaming and surfing the web. Figures from China's Education Ministry show that in 2010, male college students ran 1,000 meters 14 to 15 seconds more slowly than they did a decade ago; female students took 12 seconds longer to run 800 meters.
The global study findings were featured at a recent American Heart Association conference. It's the first research to show that children's fitness levels have declined in the last three decades.
The World Health Organization estimates that some 80 percent of the world's children may not be getting enough exercise. Health experts recommend that children 6 and older get an hour of daily moderate exercise, which can be divided into shorter sessions; only one-third of American kids get that much exercise.
Experts believe that the childhood obesity epidemic likely plays a role in diminishing fitness levels, since obesity makes it harder to engage in physical activity. TV and video games also play a part, and so do housing and neighborhoods that don't offer enough, or any, safe options to engage in outdoor play.
By Lisa Pecos