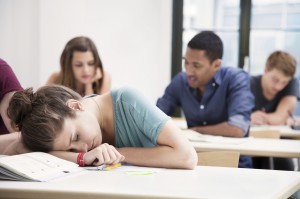 Almost All U.S. Teenagers Are Not Getting Enough Sleep, Says Study
A full night's sleep is one of the best things a teenager can do for his or her physical and emotional health, mental alertness and performance at school or sports. Yet, a new study found that more than 90 percent of American teenagers aren't getting enough rest during school nights, with only 7 percent of girls and 8-9 percent of boys getting 9 or more hours of nightly sleep.
Researchers studied findings from four government surveys conducted in 2007, 2009, 2011 and 2013 in the Youth Risk Behavior Surveillance System. Each time, about 12,000 to 15,000 students in grades 9 through 12 were asked how many hours of sleep they got on average during school nights.
Fewer than 10 percent of respondents said they got the 9 or 9+ hours of nightly sleep that most health authorities recommend for teenagers — and the sleep shortage only got worse as the teens got older: by the time they reached 12th grade, 95 percent of them were sleeping less than the guidelines set forth by the Centers for Disease Control and Prevention. Girls were more short on sleep than boys, with more girls than boys stating that they slept 5 or fewer hours per night.
African American teens were more likely to sleep 5 or fewer hours a night than Caucasian teens. In each survey, 20 percent of African American boys and girls said they slept 5 or fewer hours on average, while 15 percent of Hispanic girls and 12 percent of Hispanic boys slept 5 or fewer hours.
The study's lead author, Charles Basch, PhD, professor at Teachers College of Columbia University, pointed out that the reasons behind the ongoing sleep shortage in so many teenagers were varied and can range from early school start times, to wanting to stay up late using electronics, health issues such as asthma or even using recreational drugs.
What Can Parents Do, to Encourage Their Teens to Get Enough Sleep?
Having good, consistent sleeping schedules for the family is important; but even if parents set a good example, teenagers may think they're getting one up on parents by shorting themselves on sleep, to stay up talking to friends, texting, reading recreational literature or what have you.
This is where it can be very useful for parents to have one-on-one talks with their teens about just how important a full night's sleep is for their overall health and performance at school and elsewhere. Further, if your teenager drives to school, this introduces another really important reason for them to get enough sleep a night, to avoid the danger of falling asleep behind the wheel, which happens more often than many drivers may imagine.
For optimal sleep, the room should be completely dark and noise of any kind should be avoided or kept out.
For their part, educators are zeroing in more on the start times of schools, since classes that start very early may not promote good sleep patterns for most students.
Results of the study were published in the December, 2014 CDC journal Preventing Chronic Disease.
By Lisa Pecos