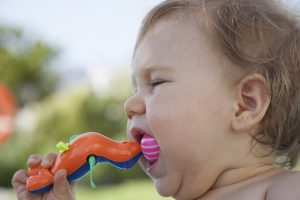 By Lisa Pecos
World Against Toys Causing Harm, Inc. (W.A.T.C.H.) has released their 2016 Summer Safety Report and chances are that some of your child's favorite warm-weather toys have made the list. With emergency departments expecting to treat approximately 2.7 million children injured in accidents this summer, parents and caregivers should have a look at the list and through the toy box.
The five types of toys that top the list are:
Toy guns with projectile ammunition. These include toy guns, bow and arrows, and other toys that are used to aim and shoot with. The risk of eye injury is high. W.A.T.C.H. warns that most of these types of toys are sold with inadequate or no warnings at all about the potential dangers and most don't include protective eye gear. The organization recommends avoiding these types of toys entirely, and this includes seemingly harmless foam darts.
Airborne toys. Remote-controlled helicopters and other flying toys, including boomerangs, can cause serious eye injuries, cuts, blunt trauma, and other potentially serious injury to a child when they come in contact with the head or face.
Hoverboards. It's no surprise that hoverboards make the list given that they've made headlines for spontaneously bursting into flames in the past. There were 52 reports of hoverboard fires between December 2015 and February 2016 alone. More recently, a hoverboard was responsible for igniting an apartment fire in Boston. Along with the risk of death from spontaneous fires, hoverboards can also lead to impact injuries from falls.
Baby pools. These small inflatable pools carry a significant risk of injury because young children can drown in as little as just 2 inches of water. The organization stresses the importance of not leaving baby pools or any other items containing water, including buckets and fountains, unattended. These items should be emptied when not in use and turned upside down or stored to avoid collecting rain water.
Water wings and other flotation devices. Drowning is the leading cause of death in children aged 1 to 4. Water wings and other flotation devices tend to provide a false sense of security, leading parents and children to believe that they are safe in the water. Parents and caregivers are warned to be diligent about supervising children in the water even when they're wearing water wings or using a flotation device as there is still a risk of drowning. They also warn about larger flotation devices, like rafts, that can block the view of a drowning child.
Other warnings in the report included:
Pool covers, which can sag and collect water or have gaps that a child can fall through.
Non-motorized scooters, which were responsible for approximately 56,000 injuries in 2014 and 7 reported deaths in the past 3 years.
Drawstrings and bike helmet straps on playgrounds, due to the high risk of strangulation during play.
Toys with small parts, which are a hazard year round, but especially concerning due to the recent number of toy recalls by the United States Consumer Product Safety Commission (CPSC).
You can help keep your children safe this summer and all year long by examining toys and looking for small parts and long slender parts, as well as parts that can break off or soft materials that a child can ingest and choke on. Checking the CPSC site regularly for toy and other product recalls can also help you keep potentially dangerous toys and other items away from your children.
Also, always ensure that your child is wearing proper protective gear and in a safe area away from traffic when riding a bike or other motorized or non-motorized ride-on toy.