By: Jackie Douglas
A step-by-step guide featuring 6 practical strategies for busy families to implement successful meal planning.
Do you walk in the door each night at five-thirty to a hungry, cranky family? Is it the first time all day you've had to think about what's for dinner? Do you wind up eating peanut butter sandwiches way too often or eat out two to three nights a week because you don't have the strength or energy to think about cooking? Believe me, I have been there. With two preschoolers and a baby on the way I have recently made the transition from stay-at-home-mom to working-mom due to the downturn in the economy. My family has gone through countless jars of peanut-butter and blue boxes of macaroni and cheese. Not that there is anything wrong with that; children can survive on peanut butter. However, this transition got me wondering if my new dinner-time crisis could be a contributing factor to our nation's obesity crisis. If people don't have time to cook, they hit the neighborhood café and fill up on copious amounts of calories. Thankfully, our family did not have the luxury of extra money to eat in such an unhealthy manner. Yet, I was shocked at how many of my new co-workers ate out more than they ate in.
People who work typically don't have time to plan a menu, make a grocery list, let alone find time to make it to the grocery store. My days of free afternoons surrounding myself with cookbooks, planning a dream menu for the week and spending hours at the grocery store showing off my adorably dressed toddlers were gone. I had to develop a system that would save time, save money, and save my children from another peanut-butter sandwich. I found inspiration in a cookbook written by Rosemary Brown, the wife of Jackson Brown who wrote "Life's Little Instruction Book". Her cookbook is called the "Big Kitchen Instruction Book", a gift to me from my mother-in-law with a Home Economics Degree who has always been a home-maker. A second burst of inspiration came from www.flylady.net, a website devoted to "Finally Loving Yourself" (FLYing) which teaches systems to organize your home. The secrets I've learned there might help someone else in my situation and promote healthy families.
This system will take an investment of time to set-up, but will pay off when family members moan, "yummy". I suggest taking a Saturday afternoon to implement these suggestions. Give yourself a good three to six weeks to tweak your new system before you give up on it and quote one of America's top executives Mary Kay Ash when she asks how executive women call their family to dinner, "kids… get in the car!" I'm not a fan of reinventing the wheel, so steal these ideas and make them your own.
Step One: Gather all of your favorite cookbooks, recipe cards, and dinner ideas. A laptop with internet access is also wonderful; some of my favorite recipes come from www.foodnetwork.com. Grab a notebook and a pen and start making a list of everything you love and already know how to make. Top on my list would be tacos, hamburgers, my mom's famous spaghetti sauce, fried tilapia, etc. If you are really new to cooking, you might want to implement the "If it's Monday" Menu where you pick the same thing to eat every Monday night, Tuesday night, and so on. When I was working full-time and working on my Master's degree our "If It's Monday" Menu looked like this:
Monday – Spaghetti, Green Salad, Fruit, Crusty Bread
Tuesday – Taco Night, Mexican Rice & Refried Beans
Wednesday – night off (we go to church)
Thursday – Homemade Pizza and green salad, fruit
Friday – Barbeque Chicken, steamed broccoli with cheese, Rice-a-Roni, dinner rolls
Saturday – Tilapia or leftovers
All of these meals can be prepared in less than 30 minutes. Recipes are found below. It doesn't matter what you make, it matters how you plan. Planning your menu is the first step in making this system work.
Step Two: Choose a day of the week you will go to the grocery store. There are several reasons you need to choose a specific day; you will save money if you only go to the store one day a week, and it will force you to make a plan. The FLY Lady on www.flylady.net suggests Thursday. Wednesday is clean out your fridge day and menu planning day. Every Wednesday you will write out your menu for the following week, clean your fridge out and see what you already have. Write this as an unbreakable appointment in your calendar. Once you get used to it, it will take less time than driving to the nearest Applebee's.
Step Three: Make your menu and your grocery shopping list. You can find printable menu planning pages at www.organizedhome.com If you will create your menus in a spiral notebook or composition book, after four weeks you will never have to make another one again unless you want to. You need a calendar in front of you so you don't plan a meal on a night you've been invited to a wedding. A simple menu might look something like this: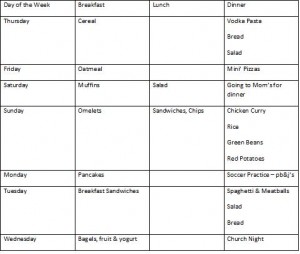 Step Three: Create your shopping list. You will need your cookbooks or websites with the recipes to read the ingredients and make a list of everything you will need to create each dish. One of the tips that have saved me the most time is to make your grocery list according to how the items are laid out in the aisles of your favorite grocery store. Headings on your list might include the following; fresh produce, meats, frozen foods, cheese & dairy, frozen foods, breads, deli, snacks, staples, etc. It does not have to be fancy, just pay attention the next time you are at the store and try to remember where ingredients are located. When your shopping list corresponds to the layout of the store, you will zip through like a superhero on a mission. Remember to save time with things that are already chopped; many times you can find ingredients in the frozen food section that are already prepared that do not cost much more than fresh ingredients.
Step Four: Take time every morning to look at your menu and see what's for dinner. Do you have meat in the freezer that needs to be thawing? Is there something you need to stick in the crock pot before you leave for work? This simple step takes two minutes, but is most often the missing link to avoid dinnertime chaos.
Step Five: Find something for your family to do while you make dinner. Every night when I get home from 5:30-6:00 p.m. my husband takes the kids out to play, ride bikes, play on the swing set, or play games. It is fun for them to have some special daddy-kid bonding time, and it gets them out of my way so I can get busy in the kitchen.
Step Six: Put on your favorite music and pour yourself a glass of your favorite beverage. Get started by filling up half of your sink with hot, soapy water. As you work, place dirty dishes in the hot soapy water. As your dinner is cooking, throw in a load of laundry (a load of laundry a day keeps Mount Wash-More away). As soon as your family enjoys their delicious food, ask everyone to clear their plate and place it in the hot soapy water. Wipe down the counters and crank up the music. Put on a tea kettle and enjoy some hot tea while you load the dishwasher. Put your feet up and be proud of yourself for feeding your family a nutritious, affordable, scrumptious dinner!
Example Recipes:
Spaghetti Sauce
Make several batches at once and freeze in several zip lock bags

Tilapia
Brown thawed tilapia fillets in 3 T butter 3 min each side. Remove fish from pan

One Response to "What's For Dinner? Strategies for Feeding Your Family"