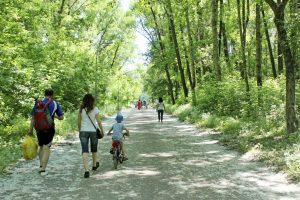 By Vanesa Sallego
Summer's on its way, which means hot and sunny days and your children home from school for some summer vacation. To help make the most of this time of year and keep your children from getting bored, we've come up with a list of 12 fun summer activities that are fun for the whole family and affordable.
1. Family road trip
You don't need to get on a plane or travel far to find something new and exciting to do. Besides, half the fun is getting there! Pick a destination an hour or two from home to explore and get the car games and iPod playlists ready for some quality family time in the car.
2. Be tourists in your own town
Check your town or city's official website for attractions and other things to do that local folk tend to take for granted. Head out for a day of enjoying what your town has to offer. Don't forget to look into summer festivals, too!
3. Have a beach day
This quintessential summer activity can be enjoyed at an ocean or a lake. Find the nearest beach, pack up some sand toys and sunscreen, and spend a day enjoying the sun and sand with your favorite people.
4. Go stargazing
There's nothing like sitting under the stars on a clear summer night and checking out the beauty that the skies have to offer. You don't even need a telescope! Astronomy sites and even weather sites tell you how to pick the best spots for stargazing. Choose a place and head out with a big blanket and your family for a night of stargazing.
5. An afternoon of plane-spotting
Sitting under a flight path close to an airport offers an exhilarating bird's eye view of airlines taking off and landing. Look for a parking lot or grassy area near your local airport, bring along some snacks, and enjoy the exciting sights and sounds of airplanes whizzing overhead.
6. Go camping
Whether at the nearest campground or in your own backyard; pitching a tent, roasting marshmallows on an open fire, and sleeping under the stars is always a fun time for the whole family and young and old alike!
7. Plan a family reunion
Get the entire family together for a big afternoon barbecue complete with backyard games like a potato sack race or horseshoes. Make it a potluck for easy, stress-free hosting.
8. Go on a family hike
Hit your local trail for a family nature walk or hike. You can make it especially fun for kids by bringing along a little container for collecting bugs or a disposable camera to take pictures along the way.
9. Take them out to the ballpark
Whether for an MLS game or supporting your local minor league; baseball games are fun for the whole family. No teams playing close by? Invite some friends along and play your own softball or even T-ball game.
10. Visit an amusement park
It doesn't matter if it's a major theme park or a weekend carnival set up in a local lot—kids love rides, cotton candy, and games!
11. Go to the drive-in
Catching a family-friendly movie at the local drive-in is an affordable way to enjoy a film and a beautiful summer night. If there aren't any drive-ins in your area, consider renting a projector from the library and having an outdoor movie night in your backyard by projecting onto a white sheet hanging from trees or a wall.
12. Have a picnic
Pack up your family's favorite summer fare and head to a state park for a picnic. Be sure to pack water guns and bubble wands for some inexpensive hot weather fun for the whole family!
Family fun doesn't need to be expensive or involve elaborate plans. Keep it simple and focus on enjoying quality time together and making memories this summer.