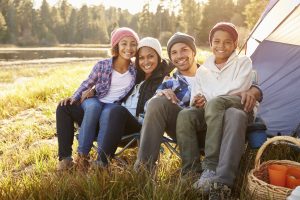 By Jamell Andrews
Summer may be coming to an end, but that doesn't have to mean making life all about school and work. The season of falling leaves and all things pumpkin-spice offers a whole slew of fun, family-friendly activities to enjoy. Here are 6 fun things to do as a family this fall.
1. Playing in—and Raking—the Leaves
Raking leaves may seem like a chore, but it actually provides you an opportunity to spend some quality time as a family. Get your kids in on the action by letting them help with raking and bagging. Kid-sized rakes are a fun way to keep younger children entertained while you tackle your fall cleanup. Make it an event by having some hot apple cider and of course, jumping in the piles of leaves before you bag them. You can also have the kids collect leaves, pinecones, and acorns to make fall crafts with.
2. Visit a Pumpkin Patch
A visit to the pumpkin patch is about so much more than picking out a pumpkin these days! Many farms offer a true fall experience with everything from hayrides to petting zoos. Enjoy walking through the pumpkin patch on a sunny fall afternoon as family and choosing a pumpkin together to carve, decorate with, or even to make pumpkin pie and roasted pumpkin seeds together.
3. Go Apple Picking
This quintessential fall activity is fun for the whole family, as well as healthy. Pick apples together and enjoy the cool crisp air and fall sun as you stroll through a local orchard together. The fun continues at home when you let the kids help you in the kitchen as you prep apples and bake fall favorites, like homemade apple pie or apple crumble. You get exercise and healthy, delicious treats all in one fun day as a family!
4. Go on a Family Hike
Fall is the most scenic time of the year thanks to crisp, clear skies and vibrant leaves. A family hike along a trail offers up a great way to spend time together while also getting exercise and enjoying all of the beauty that this season has to offer.
5. Visit Spooky Sights
With fall also comes Halloween, which brings with it all kinds of family fun with a spooky slant! Amusement parks, community centers, and farms offer child-friendly spooky events, such as "haunted" houses and rides, corn mazes, and other spooky-themed activities. Take the fun to a whole other level by dressing up in costumes.
6. Visit a Fall Fair
Fall fairs and festivals are a great way to spend a fall day or evening. Fall fairs offer something for the whole family, from games and rides to tractor pulls and petting zoos. Check your local community guide for fall fairs in your area or find one in another town and make it a family road trip. Live in a bustling city? Then head to a fall festival which offers up just as much family-friendly fun as a fair. There's nothing like the smell of candy apples in the air and the sights and sounds of a fall fair or festival to help you kick off the season together!
There's no need to be sad that summer's over with so many fun things to do as a family in the fall.