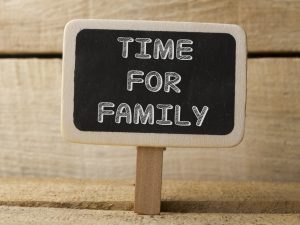 By Jamell Andrews
Between school and work, extracurricular activities, and household chores, it's easy to see why family time is at a premium these days. If you, like may parent's, are finding that you don't have nearly as much time to spend together as a family as you'd like, then these tips can help you make the most of what time you do have for more meaningful family time.
Eat dinner together. A 2011 study found that more dinners together has a positive impact on teens and lowers the alcohol, tobacco, and drug use. Teens also reported having better relationships with their mothers, fathers, and siblings when they had more family dinners.
Turn off the television and all devices. This can be a tough one for adults and kids alike in this overly-plugged in world, but doing so allows you to really connect with each other. Make it a rule to have all electronics and gadgets off during meal time so that you can spend your dinner or breakfast time speaking face to face about what's going on at school, with friends, or about anything else that matters to each of you.
Have a regular family game night. Playing a board game together lets you all enjoy some good old fashioned fun together as a family. It's a fun and exciting way to interact with the children and to get them interacting with each other.
Make it about them. Your kids have their own interests just as you do. Make the effort to spend some time doing the things that they enjoy too. If time is limited, let them know that once each month you will spend some time doing an activity that your child/children enjoy, whether that is a baseball game or a day at the mall. Focus on each family member's unique interests every now and again as a way to share your interests with each other.
Walk together. While some of the best conversations with your loved ones may happen in the car between racing from activity to activity; walk when you can. It may take a few extra minutes to get to the school or to the soccer field, but walking together forces you all to slow down and take in the scenery around you. Walking is relaxing, can help ease stress and anxiety, and is good for your physical health too.
Listen. It seems simple enough, yet often times we get so wrapped up in work and all the things going on around us that we don't really listen to what others are saying. No matter what you are doing with your family, make the effort to be present and listen. Pay attention to their words as well as their tone and their actions when they speak to really understand what is going on in their lives. Being heard is important to children and adults. Knowing that they're being heard can make it easier for your family to open up to you.
A Few Extra Ways to Maximize Family Time
Use the following pointers to help you get more family time and make the most of the time you spend together:
Use all of your resources. Finding extra time not only to spend time together but also make the most of every second is easier if you use the resources that are available to you. Ask a friend to babysit so that you can spend some time with your older children doing things they enjoy or hire a service or enlist the help of friends and family to help you tackle big chores that can take away from your weekends with the family. Don't feel bad asking for help or leaning on others when you need to.
Stop wasting time. Take an honest look at your day and try to eliminate any time wasters. This can mean not mindlessly scrolling your Facebook newsfeed for an hour every evening to packing the next day's lunches as you wait for dinner to finish cooking so that you can instead spend that extra time relaxing with your family.
Stop trying to do it all. Mothers often feel like they need to do it all and this doesn't just take away actual time spent with family, but it can also be exhausting and make it harder for you to be relaxed and happy around your family. Think about your priorities and what really matters most at the end of the day and choose your activities accordingly. That laundry can wait an extra day or two so that you can go to your child's game instead of dropping them off and running home to turn on the drier.
These days, family time has to be about quality or quantity for many. The time you spend together can enhance your bond and improve communication.