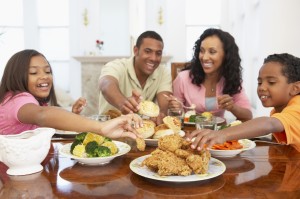 Family time is something that's increasingly in short supply in our busy modern times. Some of the best opportunities for family togetherness are mealtimes — in particular, dinner, when we can leave the day's cares behind and family members can enjoy a relaxing evening.
Recent research by Columbia University found that children who eat regular dinners with their families are less likely to abuse drugs or alcohol, or to have disciplinary problems at school. Many previous studies have similarly shown that regular family mealtime makes teens less likely to smoke, drink, act up, or become sexually active.
When it comes to family, eating meals together is important.
The following are tips for eliminating stress out of family dinners, and for creating an atmosphere of relaxation — and happy eating — for all.
Prepare for dinner ahead of time:
Wash vegetables, cook potatoes, etc., earlier in the day, so that they're ready to go in the evening. The less you have to do at dinnertime, the less time it will take you to cook, and the less stressed-out you'll feel.
Delegate duties:
Make it a family tradition that the little ones help set the table, for instance, and your husband washes the dishes (since you spent a lot of time making dinner). As children get older, they can help you with peeling and chopping vegetables, serving beverages, and other simple duties.
Serve an appetizer, if you're running late:
This can be something as simple as tortilla chips and cheese chunks, or chopped vegetables dipped in your family's favorite healthy dip. That way, you won't get hungry, irritated people waiting anxiously to be fed.
Lower noise, and no electronics or books at the dinner table:
You and your family members can all be listening to each other share about your day once you sit down to eat. But silence certainly is golden, and just being together, enjoying a lovely meal quietly, will be enough to bring you all closer together. The last thing you want is your husband on the phone as he eats, or your teenage daughter texting at the dinner table. Set the rules for your family, letting them know that dinner time is family time.
Keep things positive!
While it may be tempting to start unloading at the dinner table about what an awful day you had at work or how much you hate your boss, save that for later. Make mealtime an occasion to enjoy good food, which is best digested in an atmosphere of relaxation. Instead of complaints, take this time to praise family members for any accomplishments or noteworthy pursuits they may have undertaken.
If you have young children, consider letting them eat their dinner before you and your spouse:
Since young children go to sleep earlier, it may make more sense to feed them earlier; that way, you and your spouse can have yourselves a more leisurely dinner later on.
By Jamell Andrews