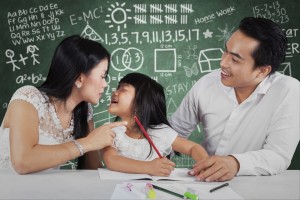 Taking Mini-Breaks from Daily Parenting Duties Is Good for You, Will Recharge You
We know that you are a loving, dedicated mom (or dad!), and there aren't enough hours in the day to do all the things you want to do for your family. But it is important to remember that taking a break from the daily routine is essential for recharging your 'go' and making you feel happier and more positive. After all, feeling more content will help you continue to be a good parent!
We would like to offer you nine suggestions for how to spend a few moments each day — or as often as you are able to — that will help keep things in perspective and keep you emotionally grounded, so that things will be less likely to feel overwhelming.
Get enough sleep! We start with this one because it is such an essential part of feeling our best. Try to get a full 8 hours of uninterrupted sleep a night. Shorting yourself on sleep brings a whole lot of undesirable consequences, from being moody and irritable, to lowering your body's ability to fight illness and dark circles under your eyes. Who wants any of those! If by chance you were unable to sleep enough on a given night, a short, 15-minute nap during the day will help restore you some, without hampering your ability to be able to go to sleep that night.
Have healthy snacks ready to grab at home: Another thing that will make many of us crabby — especially us women — is when your blood sugar starts to dip. The healthy solution to this is to keep around ready-to-go, wholesome snacks that you can grab when you feel the irritability of hunger pangs coming on. These snacks can be shared with your family, as well, of course. Keep chopped vegetables already washed inside a plastic container in the refrigerator; all-natural granola bars are also a good choice, as are fruits of any kind, nuts and seeds. All of these choices will tide you over for a bit and nourish you, without spoiling your appetite for your next meal.
Take a time-out when your little ones are sleeping or are in school: Have yourself a cup of tea, a glass of sparkling water, pick a few flowers from your garden, read a favorite novel for a bit, call or email a friend you haven't communicated with in a while — anything that is a healthy behavior and breaks up the daily monotony will serve to recharge your battery and get you ready for whatever you need to do next.
Invite some friends over for a casual get-together once a week or even once a month, or have a date night with your spouse: Use this time to reconnect with your friends or significant other. Taking even a few hours where the kids aren't making constant demands from you will help you maintain your sense of self and make you feel more glad at heart when you are with "just the kids."
Keep some aromatherapy bath salts and gels around and indulge for a while in your bathtub: Invigorate your senses by keeping some lovely all-natural scents around that you can enjoy when you need some down time. Put on your favorite soft music while you lie in the tub for a bit. Maybe even sip on a glass of wine, while you're at it. You don't have to dish out a lot of cash, to pamper yourself and get a little r & r!
Try eating a low-fat, natural dessert that you don't eat very often: Treating your taste buds to something different is another great way to reawaken your senses and keep things from getting dull. Think sorbet with chopped strawberries or blueberries on top; whip up a delicious, healthy fruit smoothie by blending fruits with some crushed ice … and enjoy!
Remember to admire nature! In the big city, it is all too easy for people to get stuck in our concrete jungles, and forget that beyond the big city, there is a whole beautiful planet out there with natural beauty to be admired in many places. Do you live in a neighborhood where there are trees and flowers to admire? Is a park or a safe walking trail nearby? Even just a 30-minute walk while your kids are at school or on the weekends will help rejuvenate you and make you better prepared to handle whatever life brings.
Have a picnic in your backyard or at the park: Keep a picnic basket or a plastic cooler around, and load it up with some easy-to-eat foods now and then; grab a blanket, some sunglasses and hats, and take your kids and yourself to your backyard or to the neighborhood park. Changing the daily routine, taking in some natural scenery and getting a little sunshine will help everyone feel good. Good food choices for picnic foods are cubed pieces of cheese, natural corn or tortilla chips (watch out for hydrogenated oils and other artificial ingredients), chopped vegetables dipped in mustard, fruits, natural juices … and don't forget some cold water for when you and the kids get thirsty.
Take a dance class with your spouse! This can be a great, fun activity for you and your husband or wife; it will give you two something to look forward to and will help you connect in a new way. And you get some exercise out of it, too! It's okay if you are not the best dancer — there's no telling that you won't learn some moves, if you try! The main idea, in any case, is to have fun and do something new. And if you already like dancing or are already good at it, you certainly don't have to take a class (though a class is fun even for good dancers!). Just put on some dance music now and then, and bust some moves right in your living room! It will help keep you healthy and young.
By Cynthia Sanchez. A graduate of the University of Washington, Cynthia has extensive experience writing about health and wellness topics for different media.