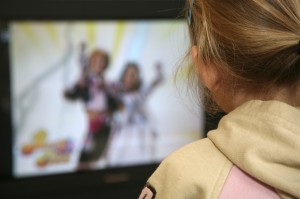 For years, doctors have been advising parents to limit the time their children spend daily watching television or on a computer — the American Academy of Pediatrics recommends that children get no more than two hours a day of non-school-related 'screen time.' But the message isn't getting through to all families.
The Centers for Disease Control and Prevention conducted two national surveys among children between 12 and 15 years of age. Close to three quarters of all the youths reported spending at least two hours in front of the TV and using a computer. Fifteen percent of those surveyed said they spent four or more hours watching TV every day; while 12 percent used a computer for four or more hours a day. The survey did not ask about use of smartphones.
The AAP's official recommendation is that children spend no more than one or two hours a day in front of a screen; this advice takes into consideration that more screen time is linked to obesity, higher blood pressure, attention problems, sleep deficits and poorer performance at school.
The AAP has further recommended that parents establish "screen-free" zones in the home by making sure that there are no televisions, computers or video games in children's rooms. This is a way to control how much screen time your children get. With respect to sleep, it is important for parents to keep in mind that children, including teens, need more sleep than adults; so, it's essential to make sure that your teen has no electronic media in his or her room that will tempt them to stay up late. Keeping their rooms free from these devices is also important for monitoring what your children are viewing or doing when they're in front of the TV or on a computer.
The AAP also recommends that televisions be turned off during dinner, to give family members a better opportunity to interact.
Children under two years of age should get no screen time at all, says the AAP, because the brains of babies and toddlers are developing very rapidly, and young children learn best by interacting with others, and not with screens.
Doctors recommend creating an environment where kids have other choices, besides TV or computers. For instance: books, board games, free play, hobbies, after-school sports and other activities, such as volunteer work or helping around the house.
Results of the above study were published in the July issue of the NCHS Data Brief, a publication of the CDC.
Eirian Hallinan