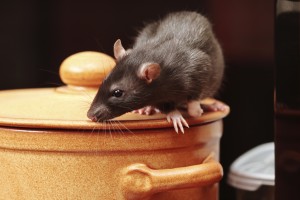 As pets go, most parents would agree that rats are not among the cutest (though we know some kids might disagree). It turns out there is a good reason not to cave in and get your child a pet rat, if that's what he or she wants.
A 10-year-old boy from San Diego, CA died in 2013 after being scratched by his pet rat, highlighting the risks from handling the pet rodents, according to a report recently released by the Centers for Disease Control and Prevention.
Though "rat-bite fever" is relatively rare, it is potentially fatal or can make the person very sick; it should be considered a possibility in persons with rash, fever and joint pain, and when the patient has been around a rodent, said a research team from the CDC's Epidemic Intelligence Service.
In the case of the San Diego boy, he had been previously healthy, then developed a fever of 102.6 degrees and experienced vomiting, headaches and leg pains. The boy's doctor first diagnosed the sickness as infection with a gastrointestinal virus. However, in the 24 hours that followed, the patient had rigors (a feeling of cold, shivering during a fever), vomiting and persistent fever; he eventually became disoriented and weak. By the time paramedics reached him, he was "unresponsive" and later died in a hospital's emergency department.
Blood tests and an autopsy revealed that the boy had been infected with Streptobacillus moniliformis, a potentially deadly bacterium causing rat-bite fever, and which can be transmitted to humans through rodent bites, scratches, or even from ingestion of the germs through contaminated food or drink, or from other exposure to the rat's germs. S. moniliformis can be present in any of the rodent's bodily fluids: feces, urine, mouth, nose or eyes.
The San Diego boy had two pet rats, one which tested negative for the bacterium, and another, recently purchased at a pet store, which tested positive.
Other animals can carry S. moniliformis also, including gerbils, mice, weasels and squirrels. Household pets like dogs or cats that are exposed to the bacterium can also carry it and infect humans. About 1 in 10 bites from rats may cause infection, according to the CDC.
In the past, rat-bite fever cases in the United States were more likely to be associated with the bite of a wild or laboratory rat; historically, the illness affected lab technicians and the poor. But now that rats have become more popular as pets, that has changed, with children now accounting for more than 50 percent of all rat-bite fever cases.
When researchers reviewed hospital records in San Diego County for 2000 to 2012, they found that of all the cases of rat-bite fever reported, 94 percent had resulted from exposure to pet rats. Most patients, 44 percent, reported only having handled the rat; 38 percent said they were bitten and 13 percent said they were scratched.
More than 200 cases of the disease have been documented in the U.S.; but researchers believe that this number is an under-representation, as the illness does not have to be reported to health authorities.
In addition, as in the San Diego case, the illness may be misdiagnosed, due to its non-specific symptoms which could be mistaken for a number of other illnesses. Isolating and identifying the causative organism is also not a straightforward process.
If someone is bitten or scratched by a rodent, they should quickly wash and cleanse the wound thoroughly with an antiseptic solution, to reduce risk of infection. With S. moniliformis infection, a bite wound will usually heal quickly, but symptoms will follow about 3 to 10 days later.
If symptoms do develop, quick medical treatment is key: rat-bite fever is treatable with antibiotics, but fatalities occur in about 13 percent of untreated cases.
In addition to fever, chills, headache and vomiting, the following symptoms can occur:
Skin rash (mostly on the arms and legs)
Muscle pain
Arthritic pain (especially in the knees)
Diarrhea
Abscess (pus and debris under whitish skin, surrounded by bright pink to red skin)
Complications such as pneumonia, meningitis, heart inflammation
Almost all domestic and wild rats carry S. moniliformis, according to the CDC. The agency recommends that at a minimum, children who handle pet rats or clean their cages wear gloves and wash hands thoroughly afterwards.
The report findings were published in the December 18, 2014 issue of the CDC journal Morbidity and Mortality Weekly Report.
By Jamell Andrews